DZI Beads
Tibetan Dzi Bead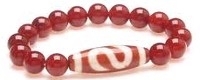 The word "Dzi" translated from Tibetan means "shine, brightness, clearness, and splendor"
For thousands of years, Tibetans have viewed Dzi as a living gemstone. It is meant for devout worship and is reverently kept and passed down over generations.
The ancient Dzi absorbs cosmic energy from the universe, hence it can guard against misfortune and brings blessings, increases the internal 'qi', gives good fortune and bliss. Till now, Dzi enjoys great popularity around the world, and it is a revered sacred charm for protection, worship, health, as well as a symbol of wealth.
Dzi are most commonly etched with eyes and stripes. You may find one, two, three, five, six, seven, eight, nine, twelve, thirteen, fifteen and twenty one eyes the most. Eyes are representation of heaven's eyes and energy, and some even believe they are Buddha's eyes. The stripes on the sides are reminiscent of the trigrams. There are other auspicious symbols that could be found on dzi such as wave, sun, moon, lotus, nectar, ru yi, tortoise shell patterns etc.